The GSA awarded VCC a 5-year contract to design and construct electric vehicle charging stations in 10 states.  VCC engineers and design partners will create plans, specifications, perform the entire construction delivery, and provide training for building managers.  VCC is the only awardee in Zone C with an Ohio and Missouri offices. Federal, State, and local agencies may start procuring GSA EV station construction services beginning October 3, 2022, under Presidential Executive Order 14008 and Executive Order 14057.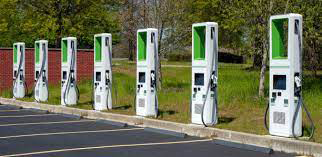 Vazquez Commercial Contracting will perform site surveys/assessments, provide design services, procure equipment and supplies, complete all construction services, perform testing and commissioning services, provide training, operations, and maintenance services, and return the site to preconstruction conditions. VCC will also plan, perform, and deliver these vital infrastructure EV services while achieving GSA's goal to maximize Sustainable Construction techniques that minimize the impact to the environment and intentionally limit the consumption of virgin raw materials in the DB process.
"This is the largest and most impactful contact award in the history of Vazquez. We are absolutely delighted the GSA concluded that VCC offered the United States the Best-Value and awarded our company a prime contract with hundreds, if not a thousand, other highly qualified DB electrical construction contractors to choose from! This is a remarkable opportunity to build electrical vehicle charging infrastructure across the entire Upper Midwest in a very short period," said Joe Vazquez, President of Vazquez Commercial Contracting. VCC is the largest small business prime contractor in Zone C and we growing to meet the demands of all of VCC's federal clients in the Zone, including our customers at Whiteman AFB and Wright-Patterson AFB. "We can't wait to see the evolution of federal vehicle fleets and the economic impact on the communities we serve in the performance of this contract," said Jason Scott, VCC's Electrical Division Director.